HCM: The "Sweden" deals ...
[Part II], [Part III]
The memorable "Sweden deal" of 1997

After a good flea-market season the HCM ended up with so many Video Games that it was really time to trade them for Home Computers.

The result was the memorable "Sweden deal" of 1997. After some months of intense preparation it was possible to arrange a giant deal with Rikard Ljungkvist a famous swedish Video Game collector. As the trade value comes to a dimension next to a full car load and Rikard lives only about 1300km away from my home - the idea was born that I could visit him and get the stuff by car.

So I told my girlfrind Kerstin that it could be a great idea to make a trip to sweden and - by the way - meet a friend who has "some" items I would like to swap with him ... Well - of course she did realize immediately what was going on but thought it would be nice to visit Sweden. So we took a week off and made a round-trip trough Sweden - a wounderful country - and met Rikard and his family. We had a nice evening - Kerstin talking with Rikard's wife and Rikard and me digging through his unbelivable collection.

Here is the result of the "Sweden deal" ...



to Rikard


Items:
2x Atari VCS7800, VCS-Clone, Videospiel Alex TG621, tele-sports III, Philips Tele-Spiel ES2203 Las Vegas (Manual), Philips Tele-Spiel ES2201, Interton VC2000, UFO Abwehr HandHeld, TV Sports SOUNDIC, Sanwa 9015, Intel TV Sport 1004, Intel TV Sport 3006, Unimex IX, Blackpoint FS2000
Click here for a detailed card list.



to HCM


Items:
Spectravideo Superexpander SVI-605, Sord M5, Sega SC-3000H, Goldstar FC-200 (MSX), Mattel Aquarius, Sharp PC-3201HN, MemoTech MTX512, Luxor ABC806, Atari 400, Atari 130XE, Dragon 32
Click here for a detailed card list.



HCM: The "Sweden" deal - Part II
Sweden Part II - The "Sweden deal" of 1998

Finally the time had come - after another good hunting season at the flea-markets all around the "Ruhrgebiet" the HCM ended up with a large amount of Video Games that were supposed to be traded with Rikard Ljungkvist from Sweden. Unlike 1997 ("The Sweden deal of 1997") we only could afford to spend one weekend to drive to Sweden and return home. So our 2500km journey started early in the morning of the 29.11.98 just one week before heavy snowfalls hit sweden. Here are some pictures of the stuff that was deliverd to Rikard and of the items we returned from our journey to sweden: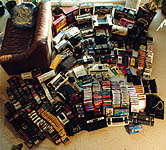 Videogames for Rikard
Computer and acessories from Rikard
HCM: The "Sweden" deal - Part III
Sweden Part III - The "Sweden deal" of 2000

If the sweden deal from '97 was large and '98 was very large then I do not know what to call the '00 deal - well have a look at it yourself: